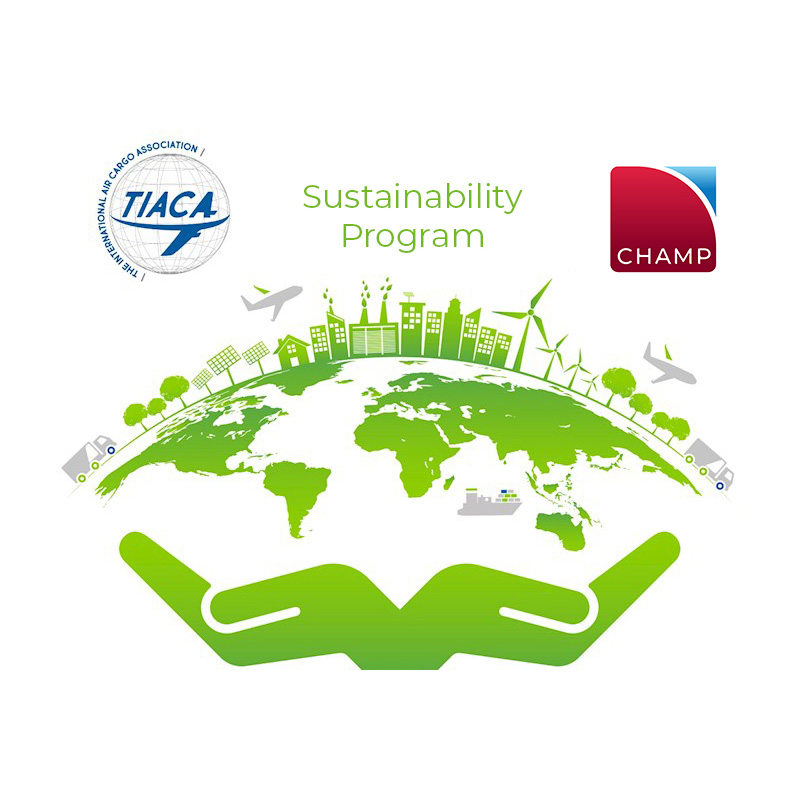 Miami, April 11, 2023
The International Air Cargo Association (TIACA) announced that the fifth edition of the Air Cargo Sustainability Awards is now open for applications. The competition aims to recognize outstanding businesses and industry initiatives leading the way to a more sustainable air cargo industry. CHAMP Cargosystems, a leading industry IT solution provider, has generously committed to continue sponsoring these awards.
"We renew our call to everyone in air cargo for fresh ideas to maintain our momentum in creating a sustainable future for our industry," says Chris McDermott, CEO of CHAMP Cargosystems, the exclusive sponsor of the Awards. "We are delighted to be sponsoring these important sustainability awards once again and look forward to receiving many high caliber entries this year."
TIACA is calling for applications demonstrating solutions and practices making positive change in any of the areas that align with the eight key objectives for a more sustainable air cargo industry found in TIACA's Sustainability Roadmap.
Environment
Decarbonization
Elimination of waste
Protection of biodiversity
Society
Supporting local economies and communities
Improvement of lives and well being
Culture & Leadership
Improvement of efficiencies and profitability
Attraction, retention and development of employees
Building and nurturing partnerships
This year, we will once again award two categories of leadership in sustainability:
Corporate Prize will recognize an established corporation, an international organization or a scholar with a long-standing presence in the cargo community.
The Start-Up and Small Business Prize will recognize and encourage young growing as well as small businesses building their presence in air cargo industry:
Winner: USD 10'000
Two runners-up: USD 2'500 each
While the Corporate Prize is focused on recognition and support; we want to specifically recognize and support The Start-Up and Small Business finalists that may need the financial support to get things up and running with a cash prize.
"The past few years have shown us just how innovative our industry is when we put our minds to it. I am excited to see all the initiatives that the industry is working on to make air cargo sustainable. Once again, we very much appreciate the support from our Sustainability Awards Sponsor, CHAMP Cargosystems." Steven Polmans, Chairman, TIACA
All shortlisted candidates will also be recognized with access to exclusive TIACA events and speaking opportunities, publicity in TIACA's communication and networking opportunities.
Submissions received throughout the awards period have the option of being featured in the newly released newsletter "Mission Innovation" focused on spotlighting innovative and sustainable air cargo solutions.
"In an age of digitalization and innovation, it is exciting to be at the heart of such vital transformation within our industry. We look forward to this year's entries and the drive and passion that is showcased thanks to our continuing partnership with TIACA," concludes Chris McDermott.
A panel of independent industry and sustainability experts will select the winner of the Corporate Category and 3 finalists in the Start-Up/Small Business Category. The award finalists will be invited to present their solutions at the Executive Summit, November 6-9, 2023 in Brussels, Belgium.
Applications will be accepted from April 6 through September 15, 2023.
More information on the TIACA Air Cargo Sustainability Award webpage.