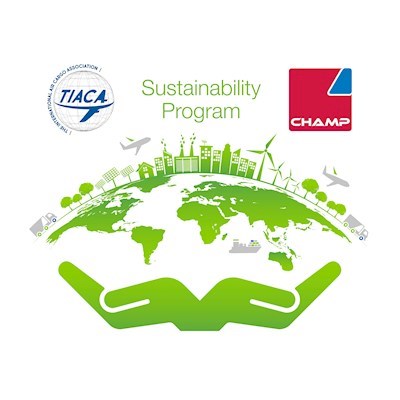 The International Air Cargo Association (TIACA) is calling for submissions to its first Sustainability Award, supported by CHAMP Cargosystems
Miami, FL, USA and Luxembourg, 22 July 2019 – The International Air Cargo Association (TIACA) is calling for entries for its first Sustainability Award, part of its Sustainability Program, focused on recognizing companies addressing challenges in environmental, social, and economic fields.
The award, which is free to take part in, is open to any person or company related to any aspect of the air cargo industry, and entries will need to address issues relating to the sustainable development of air freight.
The winner of the TIACA Sustainability Award will receive a USD 15,000 prize with USD 3500 for the two runners up.
Written entries need to be submitted online on the TIACA website by September 30th 2019, and will be reviewed by an independent panel of judges, which will include representatives from the TIACA Board of Directors and Chairman's Council, as well as the sponsor of the Sustainability Award, Strategic Partners of the Program and industry experts.
The full panel will be announced in the next few weeks.
A shortlist of no more than three finalists will then be given the opportunity to present their case during a 15 minute address at TIACA's Executive Summit in Budapest, Hungary, on the 19th to the 21st of November 2019.
The winner will be chosen by both the judges and Executive Summit delegates, with equal weight being given to both groups.
"With this award we hope to give visibility to many great ideas and initiatives that make our industry stronger and better in the long term, economically, socially, as well as environmentally," said Steven Polmans, TIACA Chairman and Director Cargo & Logistics, Brussels Airport Company.
"This award should be one of the highlights of our Sustainability Program and should not be seen as a one-off event or just a moment of attention for those on stage."
Full details of the entry criteria and online entry form are available on the TIACA website at tiaca.org
"The Award is a central element of the Sustainability Program," said Arnaud Lambert, Chief Executive Officer (CEO) of CHAMP Cargosystems.
"It is a unique stage to expose great sustainability initiatives to the industry to accelerate the impact.
"Unfortunately, as the sponsor of the Award, CHAMP can't participate but you can.
"As soon as you have, wherever you are in the world, a solution that can have a positive contribution on Sustainability for the air cargo industry, you should apply.
"I have seen great solutions for digital collaboration for actors around airports suppressing, not only a lot of paper waste, but more importantly, reducing errors and damaged goods, another waste.
"It would be great to increase the attractiveness of young talent by developing projects based on digital and mobile solutions as well, the bread and butter of Y and Z generations."
The core goals of TIACA's Sustainability Program are to inspire and stimulate long-term strategies and investment to achieve a sustainable industry and to guarantee the future of air cargo.
The Program is part of TIACA's long term vision to support a modern, unified air cargo industry by providing knowledge, consultancy and advocacy, and connecting members.
The Sustainability Award will recognize achievement in different sectors, including noise reduction, the development of sustainable warehouses and handling buildings, the introduction of new technologies, improved and more efficient processes and attracting, training, and retaining new participants to the air
cargo industry.
In addition to the prize money, the winner of the TIACA Award will receive a trophy, and the winners and runners up will be allowed to use the 2019 TIACA Air Cargo Sustainability Award and 2019 TIACA Air Cargo Sustainability Award Finalist logos respectively for two years after the date of the Competition.
Registration is now open for TIACA's Executive Summit, which will focus on cross company collaboration.
To register or to find out about sponsoring, please contact Kenneth Gibson kgibson@tiaca.org, or click here.