Downloads
WEBINAR Cargospot AirMail, making e-commerce part of your business.
Download Request
Please complete the form to download the file.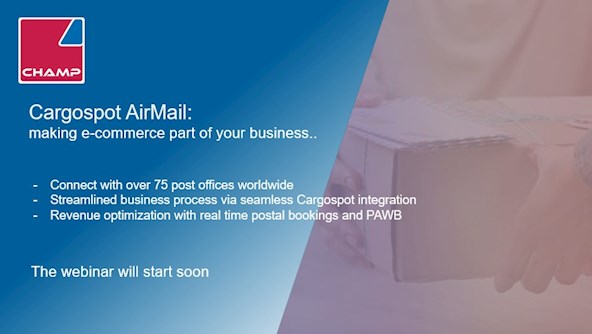 Join CHAMP's Christopher Shawdon, Shahzad Aslam along with Stephen Chan of GLS Hong Kong, Hisham Malakah of Saudia Cargo and Pascal Lai of Cathay Pacific Cargo to discuss airmail. With the solution, you can manage bookings, export/import handling, and revenue accounting of airmail shipments, connect with over 75 post offices worldwide and fully integrated with Cargospot Airline.
Fill out the form to download the webinar slide pack or watch the webinar below.
Newsletter Signup
Get in touch
Sign up to recieve the latest news from the CHAMP community by email. You can unsubscribe at any time.