Downloads
WEBINAR Connecting air cargo with Cargospot APIs
Download Request
Please complete the form to download the file.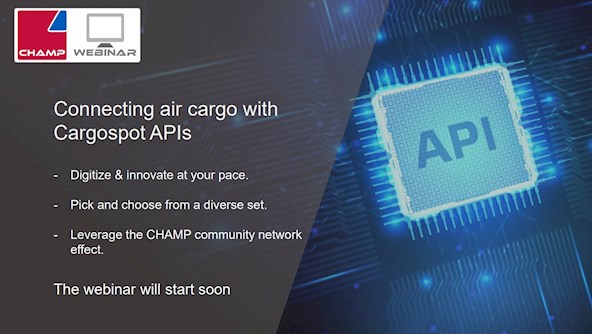 CHAMP's Cristina Toscano, Nemil Sheriff, Titus Hientzsch, Group CTO, of World Freight Company and Magali Beauregard Chief Commercial Officer at CargoAi, how to connect air cargo with CHAMP APIs by digitizing & innovating at your pace, picking and choosing from a diverse set, leveraging the CHAMP community network effect.
Fill out the form to download the webinar slide pack or watch the webinar below.
Newsletter Signup
Get in touch
Sign up to recieve the latest news from the CHAMP community by email. You can unsubscribe at any time.