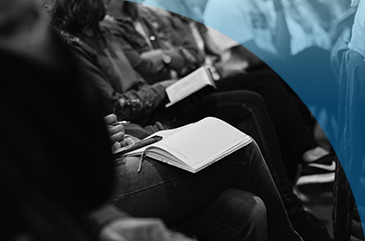 The 11th Air Cargo Handling & Logistics Conference (ACHL) took place on 24 – 26 September in Paris this year. A great location with many industry leaders giving their views and share their challenges in an increasingly changing world.
It must be said that air cargo, an industry that is paramount to the world-wide supply chain, has seen relatively limited innovation with the audience now concluding that things are increasingly changing at a faster pace! Businesses want to copy the e-commerce and digital experience into the workplace from our private lives.
The pace of change within the industry was actually put to the audience through a Slido. It concluded that this change is effected by the fragmented nature of our industry and the current legacy and IT systems making it tick.
Through the various tracks and panel discussions, ACHL looked on how future ground handling buildings should look, what airports can do to address these challenges and how the current ground handlers could adapt to cater for the new opportunities brought on by the disrupters or e-commerce giants. Des Vertannes, Chairman of the event put it to the audience, and especially to the ground handlers not to make the same mistake as 30 years ago and miss out on the market share then brought on by the integrators.
Dirk Schmitt from Swissport made an excellent proposition to adapt to the new normal of new processes and technologies! A mix of solutions needs to be brought on board by thinking long term with the right people giving the opportunity to succeed in their projects with a "fail fast, get up, and start again" project approach.
During the innovation track CHAMP shared its own approach to managing the innovation process. With start-up-mentality, solutions that are being rolled out or shelved within a 6-month time-frame allow numerous solutions to be tested with a real go-to-market approach. CHAMP chose to do this in a 'co-creation' mode involving selected partners.
CHAMP also gave a demonstration on augmented reality and one on conversational interfaces giving a true insight on solutions that show potential and solutions that are not ready for market at this time.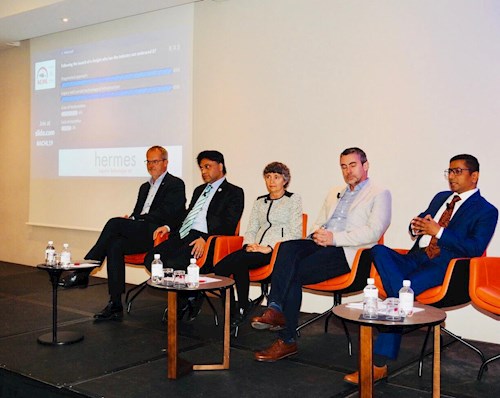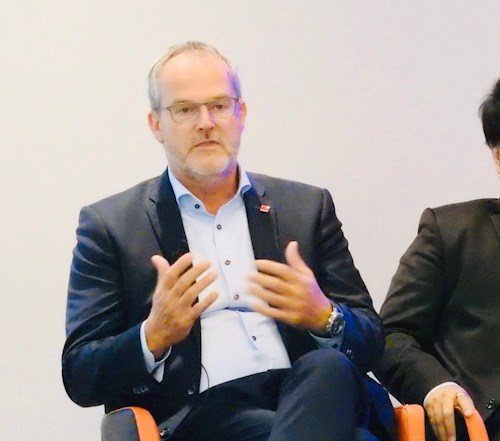 CHAMP CEO, Arnaud Lambert at ACHL panel discussion
Service providers need to understand themselves what these technologies can do and how they will impact their organization. A managed approach to this process is essential.
During the closing panel discussion on digital transformation Arnaud Lambert, CEO of CHAMP Cargosystems pointed out that a digital community is the future. The newer cargo community systems or clouds are the game changers of the moment and with that, data sharing, is a mind-set rather than a technological issue.
It was concluded that many of the current IT solutions have new interfaces (UX – UI) but that these are often built on the core systems of the past. 95% of all communication today is still made based on the old CargoIMP standards. The One Record initiative will surely bring change. However, let's not get trapped in the promise of the future. Let us address the pain points of today. Let us walk the talk and not walk and talk!