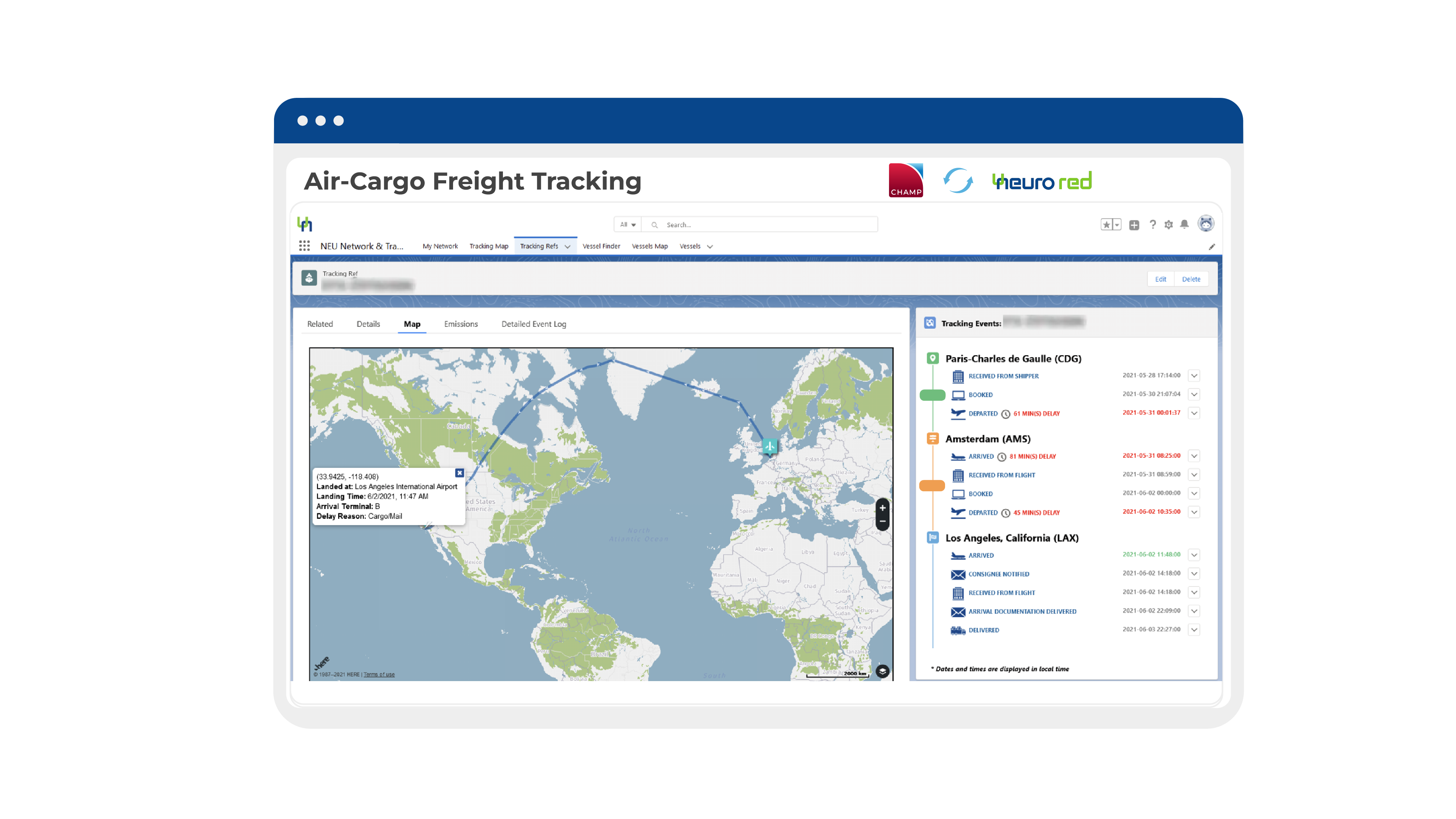 Get reliable air cargo tracking insights from CHAMP on Neurored's Transportation Management System (TMS) & Supply Chain Management System (SCM).
Increasing visibility across all air cargo events
CHAMP and Neurored are partnering to give Neurored's customers streamlined access to industry leading air cargo tracking data through CHAMP's renowned eCargo solution, Traxon Premium Tracking.
Neurored provides Salesforce-based Transportation Management System (TMS) and Supply Chain Management software to the logistics industry. CHAMP's leading eCargo service Traxon Premium Tracking will enable Neurored clients to seamlessly and efficiently track all cargo events - directly out of Salesforce - for 90+ air carriers, increasing visibility and efficiency.
Access cargo tracking data from 90+ airlines
With the CHAMP and Neurored integration, customers will benefit from tracking data from over 90 airlines as well as:
Automatic event alerts - configured to avoid repetitive manual checks and duplicate events
Allows you to track one or more AWBs for its full lifecycle
Track a

ny AWB number, regardless if you are the originator of the FWB
Traxon Premium Tracking is the most comprehensive automated tracking solutions for shippers to import forwarders or technology platforms and Neurored clients will be able to easily benefit from it.
All your transport logistics data streamlined in one spot
Neurored was founded in 2011 and is a leading Salesforce ISV partner for the Transport and Logistics Industry. Their mission is to provide user-friendly and intuitive systems to enhance productivity and drive revenue
growth by automating and digitizing day-to-day operations in Transportation & Logistics. Neurored's key advantages and benefits include:
Native to #1 Enterprise Cloud Platform: Customers get security and stability of Salesforce Business Platform and AWS Cloud
Multimodal TMS Software: One of the leading TMS with full coverage across all transportation modes (Ocean, Air, Land, and Rail)
Robust Systems Integration: Integrate with existing ERP, WMS, and CRM systems to have a unified control tower
Fully Customizable Workflows: The software adapts to your unique process and growing business requirements


CTA BUTTON HERE