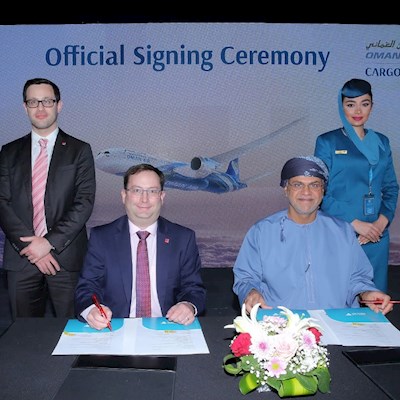 Oman Air Cargo signed a five-year contract for CHAMP Cargosystems to provide the carrier its suite of e-cargo solutions including; Traxon cargoHUB, Traxon Global Customs, Traxon Global Security, and Traxon CDMP.
Left to right: Philippe Miot, Laurent Jossa, and Mohammed Al Musafir
The occasion was held at Oman Air Cargo's Cargo Awards Gala at InterContinental Muscat Hotel in Muscat, Oman. CHAMP's Head of Sales – Distribution Services, Laurent Jossa and Oman Air Cargo's SVP Commercial Cargo, Mohammed Al Musafir participated in the ceremony.
"CHAMP is honored to take part in this event showcasing Oman Air's contributions and products to the regional and customer community.," says Laurent Jossa, Head of Sales – Distribution Services at CHAMP Cargosystems. "We are proud to have not only renewed this vital relationship but also expanded it to support of Oman Air Cargo's digital transformation."
The Cargo Awards Gala is part of Oman Air's annual customer event. It invites Oman Air's customers, as well as Royal Oman Police Customs and the Oman Air management team. The customer event not only showcased Oman Air's product portfolio, but also spotlights excellence in its cargo community. This year the event attracted over 150 attendees from across the air cargo supply chain.