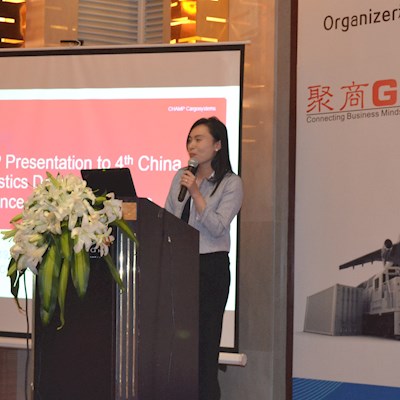 Luxembourg, 16 April 2019 – CHAMP Cargosystems' Head of Commercial Operations (APAC) Zeta Loo, addressed a packed audience at the 4th China Air Logistics Conference & Exhibition in Guangzhou, China on 28 March 2019. Ms. Loo discussed CHAMP's approach to innovation in IT for the future development of the air cargo industry.
The presentation, delivered in Mandarin, highlighted CHAMP's ability to serve the expanding Chinese logistics market with innovative services and tools that will be essential to sustain continued growth, whilst at the same time taking on the varied challenges faced by the air cargo industry of the future. Ms. Loo also delivered her insights on how government influence and direction may further stimulate the growth of Chinese air cargo transportation.
"It was great to be a part of China Air Logistics," says Ms. Loo, "It provided a platform to showcase advances in technology, and how CHAMP's innovative solutions can support the rapidly expanding Chinese air freight and logistics market. I look forward to having further opportunities to engage with industry players in the region, to discuss the changing the air cargo technology landscape."
Ms. Loo is also currently attending Cargo Facts Asia in Shanghai.