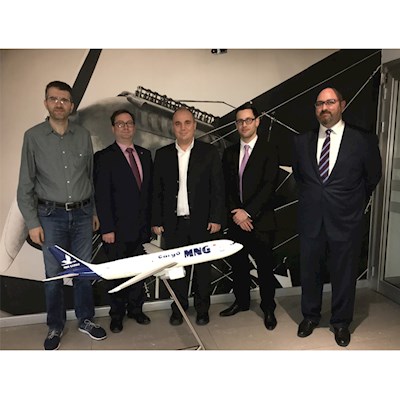 CHAMP Cargosystems launches Traxon Global Security (TGS) with MNG Airlines for the US pre-load security filing program, ACAS
Frankfurt, 6 February 2018 - The Turkish carrier MNG Airlines Cargo has partnered with CHAMP Cargosystems to use the IT provider's newly developed security compliance service, Traxon Global Security (TGS) for meeting the ACAS requirements. With ACAS currently piloting in the US, TGS will enable MNG to comply with its recently mandated filing requirements for air cargo transported from Turkey to/via the USA.
TGS is a brand new service and platform that operates in a similar way to CHAMP's highly successful and comprehensive Traxon Global Customs (TGC) service for pre-arrival filing for customs ACI schemes, currently supporting more than 50 countries worldwide. TGS is specifically designed to support multiple Pre-Loading Advance Cargo Information (PLACI) schemes from the same platform delivering a consistent and complete solution for security compliance.
"The heightened security measures recently introduced by the US has meant that we needed to act fast to ensure we were compliant with these new pre-load reporting demands," said Serkan EREN, Ground Operations Director of MNG Airlines. "CHAMP was ready with the TGS solution to help our compliance with ACAS go as smoothly as possible. We are very satisfied with TGS and CHAMP's responsive service in support of this critical task."
"We are delighted to support MNG Airlines with their pivotal data filing via ACAS to comply with the US legislation," says Laurent Jossa, Head of Sales - Distribution Services at CHAMP Cargosystems. "This is a landmark agreement for CHAMP, as MNG Airlines is our launch customer for the all new Traxon Global Security service. Safety and security are the most important demands for traders in the air logistics supply chain. Our aim is to ensure that MNG, and indeed, future TGS customers are completely satisfied with the service we can bring to support continually compliant operations into the US and beyond."
MNG Airlines also uses CHAMP's Traxon Global Customs solution which enables Advance Electronic Customs reporting for more than 50 countries. CHAMP's positive track record in customs compliance solutions helped make their new TGS offering the logical solution of choice for the US security compliance program.
For more information, please visit www.champ.aero.