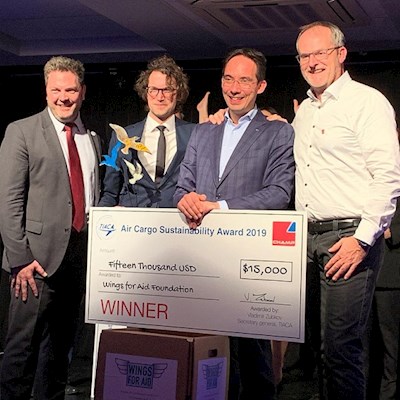 The first winner of the Sustainability Award, sponsored by CHAMP Cargosystems, has been announced during the Gala Evening of the TIACA Executive Summit 2019 in Budapest. The winner, Wings for Aid, received funding of USD 15.000 and the two runners-up received USD 3.500 each.

Earlier in the day, the 3 finalists (M&G Packaging Corp, Nallian and Wings for Aid Foundation) presented their projects for the final selection. The finalists were selected by the Jury as well as the attendees of TIACA's Executive Summit each with a 50% weight.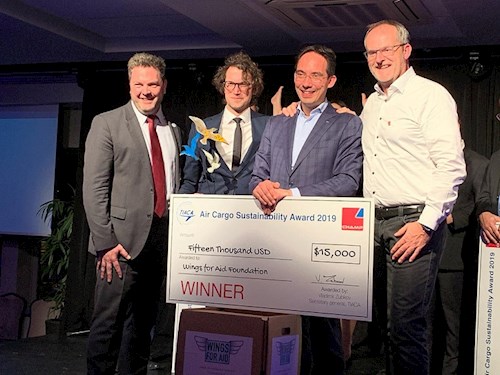 "Congratulations to Wings for Aid and to all the participants. This first Award was a real success and supports the vision of Sustainability and the 3 pillars (Planet, People, Prosperity). The finalist's presentations were the concrete demonstration of it. Including the vote of the attendees in the final mark show exactly the way we, as TIACA, want to work on Sustainability and on other topics: in collaboration and together with the industry." said Steven Polmans, Chairman of TIACA.

The winner Wings for Aid is a foundation with the aim to "reach people anywhere". They create a self-landing cardboard delivery box to bridge the last mile to people in need as a result of humanitarian crises.

"We were very honored to participate in this nomination and we feel really excited to be part of the air cargo family. This award will help us to take another step and thanks to the network of TIACA we found very strong support", said both representants of Wings for Aid, Barry Koperberg, General Manager and Alexis Roseillier Lead Engineer.

Arnaud Lambert, CEO of CHAMP Cargosystems and cocreator of this Award with TIACA is also very enthusiastic about the 1st Sustainability Award: "the 3 finalists had very convincing projects and all deserve warm congratulations. I think Wings for Aid won because we all have been touched by the apparent simplicity of the concept, the hard work to make it possible and the humanitarian goal. I'd do the parallel with the idea we had together with Steven when we created this Sustainability Award: what can we do together that we cannot do individually?"

For the record, this summer, TIACA launched its first annual Sustainability Award, sponsored by CHAMP Cargosystems. This first edition received applications from established corporations and start-ups, with very diverse focus. The 3 finalists were selected by 5 judges: Steven Polmans, Director Cargo & Logistics at Brussels Airport Company and Chairman of TIACA's Board; Arnaud Lambert, CEO of CHAMP Cargosystems; Lilian Tan, Vice President, Strategic Aviation Solutions International; Susy Schöneberg, Head of Flexport.org; Deniz Daştan, Quality Management and Development Manager at Turkish Airlines.